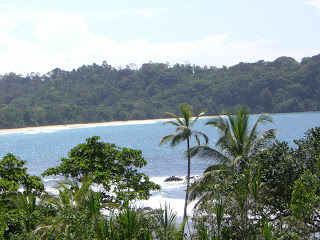 We took a bus ride over the entire width of Panama from the Pacific to the Caribbean coast in a total of four hours! The ride was up and over lush, barely touched mountains. Isla Colon, the largest of the many islitas of Bocas Del Toro overwhelmed us with the amount of Gringos, so we spent our time on Isla Bastimentos, a jungle rich island with beautiful empty beaches, no roads and a tiny town. We walked for entire days exploring beaches and the jungle interior. One day was spent kayaking to another small island where we snorkeled and relaxed in a cute little white sand cove. After a few sunny days and one tropical rainstorm, we headed back over the mountains to the Pacific coast where we spent a day in Las Lajas at perhaps the longest, widest beach either of us had seen.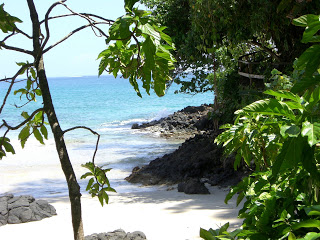 The waves were huge and powerful but nobody was surfing because the place was virtually vacant, a strange phenomenon. Houses are beginning to go up however and we were told by a guard that one of the new foundations belongs to a cousin of Steven Segal! From there we took a bus to the glorious mountain town of Santa Fe. The Small village is surrounded by green mountains and a plethora of rivers and waterfalls. The number of hikes is endless. There is a refreshing swimming hole a twenty minute walk down a steep hill from our Hostel. On the walk you pass a coffee factory producing the local coffee, Tute. An incredible view is at every turn of every road and the climate is like summer time in Vermont all year round!

Yesterday we walked straight up hill for two hours to a tiny village called El Salto. The village is basically one large family, five small houses. We stopped at one of the little houses and asked about going to the waterfalls. Two cousins, Rosa and Jorge age 14 and 15, offered to take us. The hour walk was incredible. Each waterfall was more impressive than the last. After trusting our lives with these children, scaling rocks and climbing into caves, we were relieved to make it to the final and most stunning "charo" of them all. This waterfall was pouring out of a gigantic cave and when Jorge threw a rock at it hundreds of bat like birds flew out and into the valley like maniacs.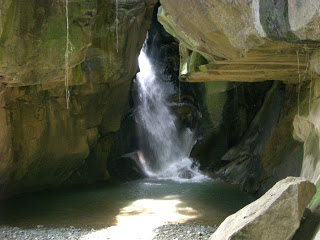 We couldn´t figure out if they were in fact bats because of the white collar around the neck but they sure sounded like them. After swimming and hanging out for a while at one of the water holes we went back and ate lunch with the family. Typical rice and beans and a fried egg. They Successfully stuffed us with ridiculously juicy oranges from their tree and sent us on our way. We are delighted with Santa Fe. It is a sweet town with friendly people and amazing surroundings. Tomorrow we are embarking on a seldom traveled journey by horseback and canoe to the Caribbean from Santa Fe.