Travel to Puerto Viejo.
International Airport, Playa Chiquita is approximately 4½ hours by car or bus. There are several options available to get to Tierra de Sueños
Shuttle
This is the most common, efficient option to get to Tierra de Suenos.
There are several tourist shuttle companies that provide door-to-door service from the San Jose airport or hotel directly to Tierra de Suenos saving you the hassel of taxis. Shuttle usually make the trip in less than 5 hours, making it a faster mode of travel than the bus. The most common shuttle companies are Pleasure Ride, Caribe Shuttle, and Interbus.
The shared shuttles cost approximately $59.00 per person and a private shuttle cost $245.00. Check with each shuttle company for shuttle times and prices or we can make the arrangements for you.
Bus
The most cost efficient option is MEPE, which is the national bus line that runs all over Costa Rica, carrying many travelers to Puerto Viejo hotels.
Buses depart from San Jose to Puerto Viejo daily from the Terminal de San Carlo. Departure times are at 6:00 a.m., 10:00 a.m., 12:00 p.m., 2:00 p.m., and 4:00 p.m. Make sure to take the Mepe Buses to the Puerto Viejo de Talamanca, not to be confused with Puerto Viejo de Sarapiqui.
The bus takes about 5 hours, costs approximately $14.00 per person and makes one 20 minute stop for refreshments and bathrooms. From the bus stop in the center of Puerto Viejo, you can catch a cab to Tierra de Suenos for $8.00.
A cab is also needed from the airport or hotel to the bus station.
Car Rental
Renting a car is another option. Try Adobe, Alamo, or National Car Rental
Since there are no street signs in San Jose, or anywhere, we recommend getting a GPS.
While having a car gives you more mobility, driving in Costa Rica can be stressful. Check out these tips on driving in Costa Rica and other travel advisories.
You can view two popular driving routes to Puerto Viejo on our affiliate Puerto Viejo Satellite website, which also features a Google-Map interface of the area.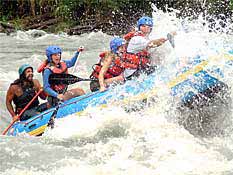 River Rafting
Feeling adventurous? Take the Pacuare river rafting trip and get dropped off right at our doorstep! The rafting tour operators will pick you up in San Jose in the morning, take you on a four hour rafting trip with breakfast and lunch included and then drop you off at Tierra de Sueños at the end of the day. Your can book directly with them or call us and we can help with the arrrangements.
 We are happy to help with any transportation questions you may have about the different options.