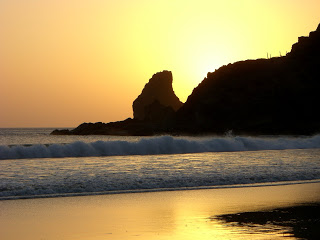 So far Nicaragua has been good to us. The food is tasty and cheap. It´s about $2.50 each for dinner and a beer. Lodging seems to run about $10 for a room. This is our trip up until now….
After a shockingly warm night in Managua we headed straight for the beach. We stayed a couple nights in San Juan del Sur, a sleepy little fishing village turned surfer getaway and then a couple nights in a little hostel right next to the main surfing beach, Maderas. We took a day of surfing lessons and can both see why people fall in love with the sport. This seems to be a great place for beginners and the more advanced.
The surfers come to Maderas in truckloads everday from San Juan del Sur. Neither of us have ever been to a place that needs another guest house more, but, having said that, we are not jumping to open one up here. We can´t figure out why there isn´t more business on this string of beaches, all beautiful and all fairly private. For now we´re going to sleep on it and go check out Ometepe, an island made up of two volcanos in Lago de Nicaragua.