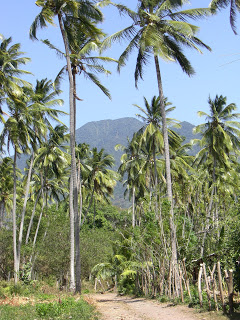 After a tipsy ferry ride across the enormous Lago de Nicaragua and an hour bouncing along a dirt road in the back of a pick-up, we found ourselves at Hacienda Merida; camp for grown-ups! The beautiful refurbished hostel was once a vacation home and working coffee plantation of the Somoza family who ruled as dictators for three generations before being driven out by the Sandanista revolution in 1979. Now it sleeps about fifty, serves delicious buffet style meals and is comfortable enough to feel like home after a few days.
The grand Isla de Ometepe is home to two volcanos, Concepción and Maderas. Concepción is an active, steep, arid, perfect cone while Maderas gets steadily more lush the higher you go with monkeys and birds in the trees and a lagoon that fills the crater on top.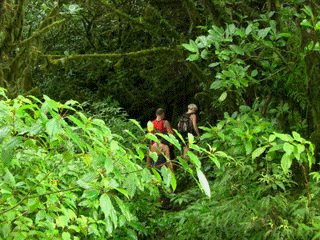 We relaxed and took in the sceneray for a couple of days and then made the ambitious decision to climb Maderas- five hours up, four down. We took to the mountain with a Norwegian couple, Paal and Ilene who hiked in sandals, an Aussy, El and a rediculous couple from Brooklyn and Connecticut. Tiffany is a self-proclaimed Yoga instructor who smokes like a chimney and sounds eerily like the Nanny and her boyfriend, Kai wears a knit cap in the 90 degree weather, even while hiking. Much to our disappointment, they turned around a couple hours into it. The hike was insane. We were up to our knees in mud, swinging from vines like a bunch of monkeys.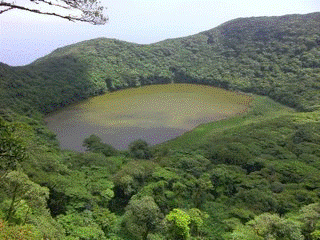 As we reached the top the scenery grew more and more beautiful. Moss coverd every surface and a dense cool cloud blew through as we climbed in and above the canopy. Reaching the crater lagoon was quite a feat and well worth every step. Afterwards we enjoyed Toñas (local beer) with Paal, Ilene and Rick from Canada who was pretty much a camp counselor by the time we left.
We left plenty to be explored on Ometepe and can't wait to return. We will miss Paal, Ilene and Rick who were our travel companions for a week and can't wait to see them again.