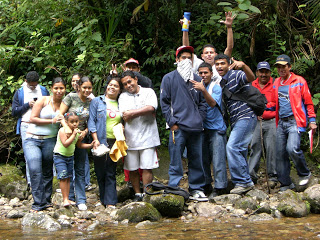 We're very excited about the guesthouse posibilities here in Panama. From what we have seen so far the people are refreshingly freindly and open. We have talked to several expats living here and they say that they are comfortable in the community. That is something that we were never sure of in Nicaragua.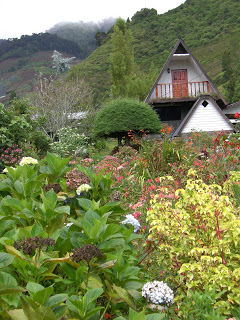 We are also excited about the nicely paved roads and the fact that you can drink the water almost everywhere. The small town we are in has grocerie and hardware stores and the internet…….and few options for lodging. The biggest attraction is the numerous lush cloud forest national parks that surround the valley, one of which includes Volcan Baru, the highest point in Panama. If you're lucky, on a clear day you can see the Pacific and the Caribbean from the Volcano.
We only had the chance to explore Parque Amistad where we saw the beautiful waterfall and the panamanian tour group you see in the pictures. We hoped to see the Quetzal, allegedly one of the most beautiful birds in the world but our search will have to continue.
Aside from the nature the area is known for its produce, especially black berries and strawberries. Throughout the hillsides there are swiss-style houses with beautiful gardens thanks to a migration generations ago. Along with their architecture they brought great yogurt and cream. The main road is littered with stands selling the local specialty, strawberrys and cream. We could hardly believe how delicious it is. Our feeling about this place is good enough that we spent the last couple days exploring property with a real estate agent. She showed us some interesting prospects. For now, we will continue our search by hiking around the volcano to Boquete and keep Cerro Punta in mind.