We combine some of our favorite activities along with your hotel stay and all your transportation to give you an adventure you'll not soon forget! Trips generally include either pickup or dropoff in Puerto Viejo and you can end or begin most tours in a different location if you like so they are great to organize at the beginning or end of your Puerto Viejo stay.
Arenal Volcano & Monteverde
The Arenal Volcano produces explosions and flows of glowing lava almost everyday and is an unforgettable experience.  Your tour includes transportation from your hotel in Puerto Viejo or San Jose to Arenal, 1 night accommodations in La Fortuna, night viewing tour of the volcano, hot springs and horseback ride to a beautiful waterfall. Additional nights to explore the area on your own can be added.
Add nights in Monteverde to your package starting with a boat ride across Lake Arenal to reach Monteverde, One or more nights hotel in Monteverde and time to explore the world-famous cloud forests or add a canopy/zipline adventure.
More info / Reserve
Tortuguero National Park Expeditions
Tortuguero national park is located on the other Costa Rican Caribbean, North of Limon. It is the third-most visited park in Costa Rica, despite the fact that it can only be reached by airplane or boat. The park has incredible biological variety, due to the existence within the reserve of eleven different habitats, including rainforest, swamps, beaches, and lagoons. It is located in a tropical climate, is very humid, and receives up to 250 inches of rain a year. It is renowned for it's natural and unspoilt beauty.  This is the very best place in Costa Rica to spot wildlife. Monkeys, sloths, crocodiles, toucans, and many colorful frogs and insects are all common sights. Included is transport from Puerto Viejo to Tortuguero and then to San Jose, 1 night accommodation (extra nights can be added), five great meals (2 breakfast plus 2 lunch and 1 dinner), two canal tours in the National Park, a guided hike in the National Park and a guided tour of Tortuguero Village.
More info / Reserve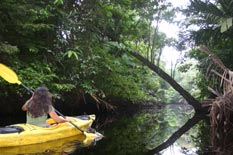 Just a couple of hours from Puerto Viejo, across the border in Panama are the archipelago of Bocas del Toro, a unique bustling set of islands where the boat is the way to get around, the restaurants, bars and hotels are built on stilts right over the water and the island lifestyle rules.
Our Bocas del Toro trips include return transportation from Puerto Viejo to Bocas del Toro via Minibus and then on by boat to the islands, accommodation in a 3 star hotel on Isla Colon, continental breakfast, tours and lunch on the final day.  An option returning to San Jose by air is also available. More info / Reserve